Childs Padme Amidala Blaster & Holster
Product # RU5088
Toy Blaster
Belt w/ Holster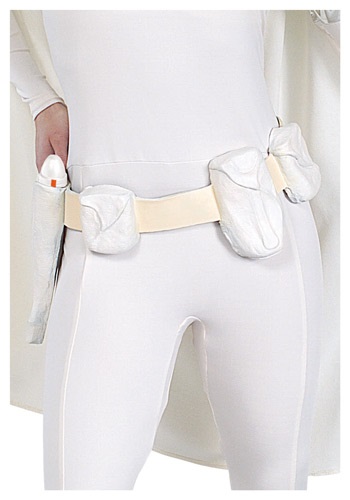 Prepare to defend the Republic with this Padme Amidala blaster and holster set. The off-white, sturdy vinyl belt matches Padme's white jumpsuit and has a holster for her blaster. The included plastic blaster (requires 2 AA batteries, not included) has an orange tip and when the trigger is pulled, the blaster makes realistic movie sounds. This officially licensed Star Wars holster and blaster set makes it easy to keep your protection with you at all times.
State laws prohibit the sale of toy guns within the states of New York and California. In compliance with this law we are unable to ship this item to these states.
This product has restrictions that limit the countries that we can ship to. This product cannot be shipped to Australia, Austria, Belgium, Bulgaria, Croatia, Cyprus, Czech Republic, Denmark, Estonia, Finland, France, Germany, Greece, Hungary, Ireland, Italy, Latvia, Lithuania, Luxembourg, Malta, Mexico, Netherlands, Poland, Portugal, Romania, Singapore, Slovak Republic, Slovenia, Spain, Sweden or United Kingdom.