FX Luke Skywalker Lightsaber
Product # HA87991E
Luke Skywalker Force FX Lightsaber - Return of the Jedi
Display holder
Batteries not included
---
Sorry, this item is Out of Stock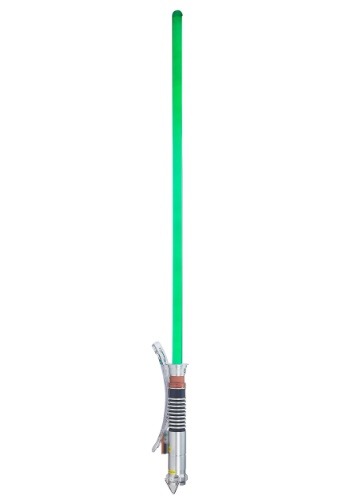 For your next galactic battle, wield this collector's Luke Skywalker FX lightsaber! Power-up your intergalactic "weapon" to see the first of the glowing green blade's light effects. Swing and slice your lightsaber through the air and you'll hear four motion sensor-controlled sound effects — power-up, idle hum, clash and power-down — digitally recorded from the movie. As you power down "post-battle" you'll see more light effects to add to the realistic action. The lightsaber is 44 1/2" from the tip of the blade to the end of the hilt. With a durable metal hilt that looks and feels real, you'll never want to have your lightsaber far from your side! Lightsaber comes with a base for display. Requires 3 "AAA" batteries (not included). Some assembly required.
Glowing polycarbonate blade

Multiple motion-sensored sound effects

44.2'' in length

Licensed collectible endorsed by Lucasfilm LTD

From Lightsaber series
This product is only available for sale in the United States and may limit available shipping options. This product cannot be shipped to any other country.