Jango Fett 2 Blasters & Holster
Product # RU5089
Two Toy Blasters
Two Holsters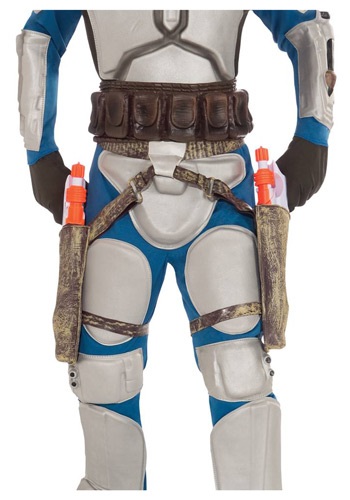 Perfectly accessorize your Jango-Fett costume with these authentic-looking blasters and holster. The brown vinyl holster is painted to look like Jango-Fett's holster from the movies. The holster includes 3 pieces. The belt fits around the waist, and the two holster pieces attach to each side with Velcro. The straps are adjustable for a custom-fit. (Holster fits waist sizes from 40-46) The bottom of each holster has an attached vinyl strap that Velcros around each leg. The white plastic blaster guns have orange details and make an authentic blasting sound when the trigger is pressed. (Each gun requires 2 "AA" batteries, not included.) This is an offically licensed Star Wars product.
State laws prohibit the sale of toy guns within the states of New York and California. In compliance with this law we are unable to ship this item to these states.
This product has restrictions that limit the countries that we can ship to. This product cannot be shipped to Australia, Austria, Belgium, Bulgaria, Croatia, Cyprus, Czech Republic, Denmark, Estonia, Finland, France, Germany, Greece, Hungary, Ireland, Italy, Latvia, Lithuania, Luxembourg, Malta, Mexico, Netherlands, Poland, Portugal, Romania, Singapore, Slovak Republic, Slovenia, Spain, Sweden or United Kingdom.