Authentic Stormtrooper Costume
Product # RU909866
Jumpsuit
2 Gloves
Chestpiece/Codpiece
Back piece/ Seat piece
Helmet
2 Shoulder Pieces
2 Arm Pieces
2 Thigh Pieces
2 Shin Pieces
** Note that measurements pertain to stretch jumpsuit.
---
Sorry, this item is Out of Stock
Size
Measurement
Standard
Metric
Standard
Chest
45"
114cm
Standard
Waist
39"
99cm
Standard
Inseam
29"
74cm
Standard
Jumpsuit Length
65"
165cm
Standard
Torso
36"
91cm
X-Large
Chest
53"
135cm
X-Large
Waist
49"
124cm
X-Large
Inseam
30"
76cm
X-Large
Jumpsuit Length
68"
173cm
X-Large
Torso
40"
102cm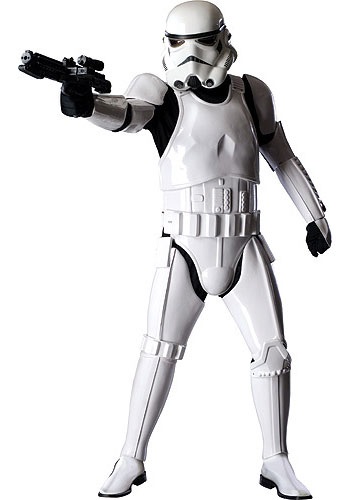 This is the ultimate authentic Stormtrooper costume. If you are looking to play the part from right out of the Star Wars movies, this is the costume for you. All of the pieces are sturdy, injection molded plastic. The chest and codpiece are attached to one another with two elastic strips, and the pieces connect to the back and bottom pieces with Hook and Loop fastener. The chest and codpiece, as well as the back and bottom pieces have molded details, including an attached, injection molded belt. The shin and thigh guards have a Hook and Loop fastener closure running down the back seam, and the thigh guards have foam padding for a comfortable fit. The arm guards and gauntlets connect with Hook and Loop fastener, and a hand cover piece attaches to the gauntlets. The shoulder guards connect to the arm guards with Hook and Loop fastener as well. This amazing costume also includes a black polyester jumpsuit and black costume gloves. The collector's edition helmet has full color details and see-through lenses. The interior measures 26" in circumference and has foam padding for comfort and great fit. A full-color guide to putting the costume on is also included. Become one of the Galactic Empire in this officially licensed supreme edition Stormtrooper costume by adding a Trooper Dart Blaster to complete you look.
ATTENTION CUSTOMERS: This product cannot be shipped in its original box to Australia, Canada, Great Britain, Guadeloupe, Israel, Mexico, New Zealand, Russia, Singapore, Italy, Lithuania, Slovenia, South Africa, Taiwan, Thailand or Ukraine.
100% polyester jumpsuit, 100% EVA armor pieces

Officially licensed

Black jumpsuit

Black fabric gloves

Molded chest piece w/ attached codpiece and belt

Molded pair of shin guards

Molded pair of thigh guards w/ padding on interior

Molded arm guards w/ matching gauntlets

Molded shoulder guards attach with Hook and Loop fastener

Plastic helmet w/ 26" circumference

Foam padding inside helmet for comfort

Full-color instruction set included for wearing