Darth Vader Lightsaber
Product # RU570
Injection Molded Handle w/Telescoping Red Light-Up Blade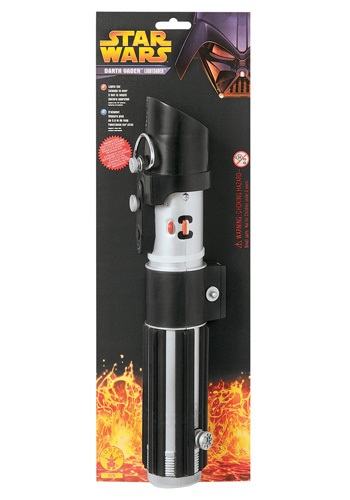 If you're Darth Vader, you're going to need a lightsaber to defend your evil-doers of the dark side! This sturdy plastic lightsaber has a long hilt with black vertical plastic grips, resembling Darth Vader's saber from the movies. The lightsaber also has plastic control buttons on the hilt for an even more authentic appearance. (Buttons for show only.) A red plastic extension is pulled out of the inside of hilt to form the blade. With this blade extended, the lightsaber measures almost 3 feet in length. When the power switch is turned on, a bulb lights up the blade. (Requires 2 "AA" batteries, not included.) When you are done using the lightsaber, simply push the blade section back into hilt for easy storage.
Plastic Darth Vader lightsaber

Red blade extends out to 3 feet long

Lights up with 2 AA batteries (not included)

What every Sith Lord needs
This product has restrictions that limit the countries that we can ship to. This product cannot be shipped to Austria, Belgium, Bulgaria, Croatia, Cyprus, Czech Republic, Denmark, Estonia, Finland, France, Germany, Greece, Hungary, Ireland, Italy, Latvia, Lithuania, Luxembourg, Malta, Netherlands, Poland, Portugal, Romania, Slovak Republic, Slovenia, Spain, Sweden or United Kingdom.